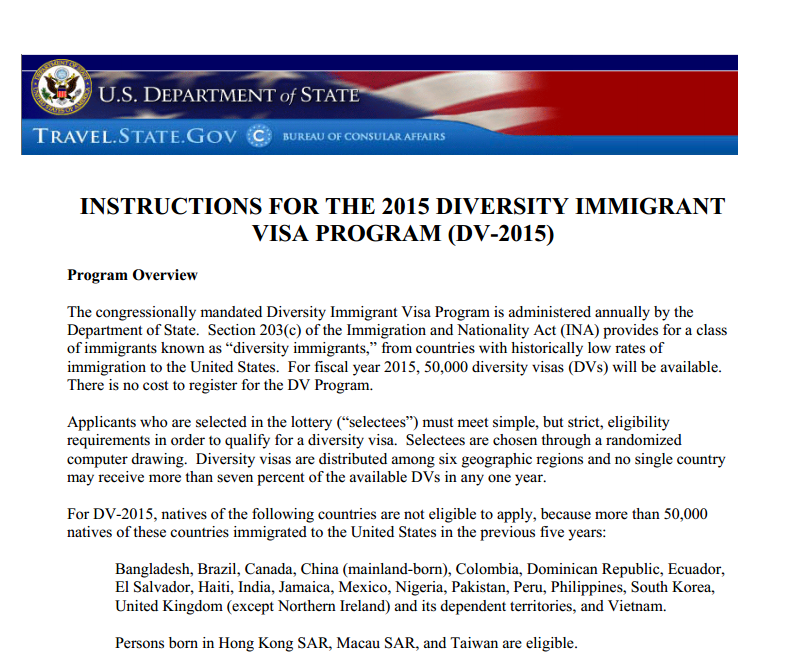 The U.S. State Department has released online registration dates and instructions for the upcoming DV-2015 lottery.
DV 2015 Program online applications will be accepted from Tuesday, October 1, 2013 at 12:00 noon, Eastern Daylight Time (EDT) (GMT-4) to Saturday, November 2, 2013 at 12:00 noon, Eastern Daylight Time (EDT) (GMT-4).  Applicants may access the electronic Diversity Visa entry form (E-DV) at www.dvlottery.state.gov during the registration period.
The annual DV program makes visas available to persons meeting the simple, but strict, eligibility requirements.  Every DV lottery entrant must have at least a high school education or its equivalent as defined by local requirements or have two years of work experience within the past five years in an occupation requiring at least three years of training or experience.  Applicants who do not meet the educational or work experience requirements will be disqualified.
A computer-generated, random lottery drawing chooses selectees for Diversity Visas.  The visas are distributed among six geographic regions globally, with a greater number of visas going to regions with lower rates of immigration, and with no visas going to nationals of countries sending more than 50,000 immigrants to the United States over the past five years.  Within each region, no single country may receive more than seven percent of the available Diversity Visas in any one year.
The congressionally mandated Diversity Immigrant Visa Program is administered on an annual basis by the Department of State and conducted under the terms of Section 203(c) of the Immigration and Nationality Act (INA).  Beginning in 2005, the Department of State implemented an electronic registration system in order to make the DV process more efficient and secure.  Special technology and other means are used to identify those who commit fraud for the purposes of illegal immigration or those who submit multiple entries.
Entrant Status Check for DV-2015 will be available starting May 1, 2014, at the E-DV website www.dvlottery.state.gov. To check the DV entry status online, you need the information on your Submission Confirmation page. Therefore, it is essential you retain your confirmation number.
DV-2015 Official instructions Link:
http://travel.state.gov/pdf/DV_2015_Instructions.pdf