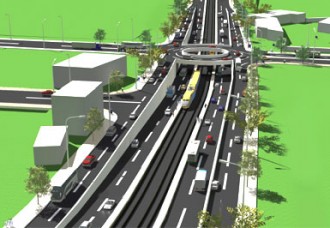 The Ethiopian Railways Corporation (ERC) said that the Addis Ababa Light Rail Transit (AA-LRT) project is being executed according to schedule.
The 72kms-long, two-line AA-LRT would cross all 10 sub cities of Addis Ababa. On completion, AA-LRT is expected to operate 18 hours a day using 41 light trains thereby transporting 60,000 commuters per hour.
Every locomotive would travel 120kms per hour pulling at least three cars each with more than 200 seats. At all stations, a train is expected every five minutes.
Among the major components of the five-year Growth and Transformation Plan of the Ethiopian government is constructing 2,000kms-long railway line.
Source: ERTA